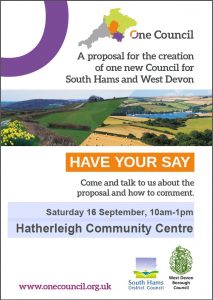 You will by now have received information from West Devon Borough Council on the proposal to merge with South Hams Council to create a single council to serve both areas.
One of their consultation events will be taking place in Hatherleigh Community Centre on Saturday 16th September between 10am – 1pm.
Further information about the proposal is available here https://www.onecouncil.org.uk/
Read the key facts here One Council Key Facts Final (1)
Please submit your comments to WDBC direct although we would be interested to hear if you have any concerns.