Kingswood Homes have arranged an exhibition of their proposals for the re-development of Hatherleigh Market.
This is taking place on Wednesday 20th September in Hatherleigh Community Centre between 4.30pm and 6.30pm.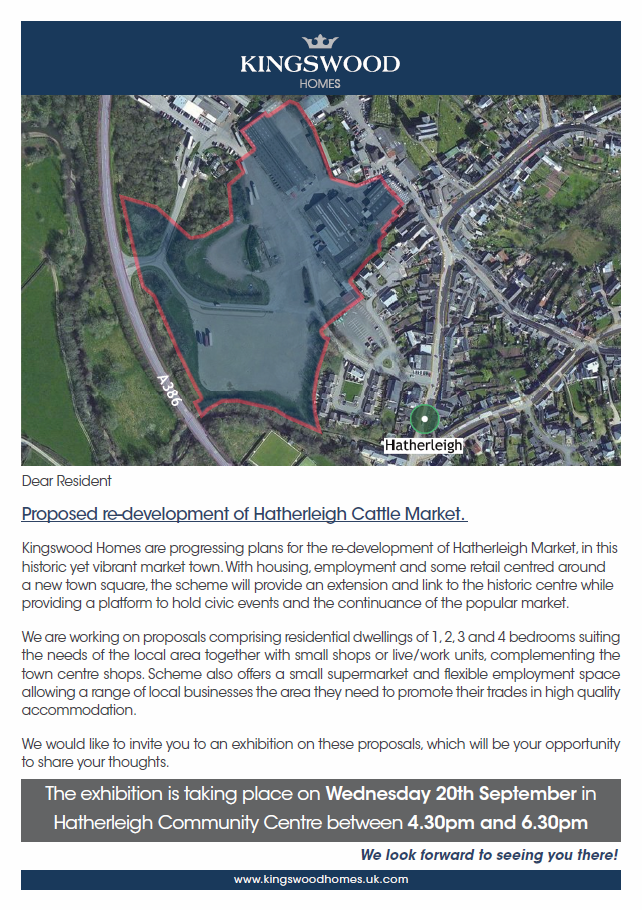 They state:
"Kingswood Homes are progressing plans for the re-development of Hatherleigh Market, in this historic yet vibrant market town. With housing, employment and some retail centred around a new town square, the scheme will provide an extension and link to the historic centre while providing a platform to hold civic events and the continuance of the popular market.
We are working on proposals comprising residential dwellings of 1, 2, 3 and 4 bedrooms suiting the needs of the local area together with small shops or live/work units, complementing the town centre shops. Scheme also offers a small supermarket and flexible employment space allowing a range of local businesses the area they need to promote their trades in high quality accommodation. We would like to invite you to an exhibition on these proposals, which will be your opportunity to share your thoughts."
UPDATE
The Kingswood Homes event presented the following posters for view (click on each image for larger display or visit their website http://www.kingswoodhomes.uk.com/pages/future-developments.php ).  You'll see on image 3 they are asking for comments as to the design of the public space and pavilion.  This design is different from the one presented 3 years ago for the outline planning application.
We acknowledge the lack of space for Tuesday market parking (this is something we'll continue to lobby for) and there is no rear entrance for Cornwall Farmers to due topography reasons. We also understand this is a change many don't want to see, but in time the public space area will likely become a central hub for the town so we need to influence them to build a design that supports a town like ours. Outline planning permission has been approved so it's now about how to make the best for the town.
It would help the Town Council to know your views, constructive comments please. For instance:
What material type of pavilion, closed or open air?
Is the location of the community building right? Would it work there for housing the auction and fur/feather?
Is the location of the play area right?
If you've sent/send any comments to Kingswood then please copy Hatherleigh Town Council in hatherleightc@gmail.com