Read below for a personal account of the day by our Councillor Paul Bolland on his very first boundary beat……
Beating the Bounds Walk, 30th August 2021:
Every seven years, Hatherleigh Town Council and The Moor Management Committee invite the townspeople of Hatherleigh to join in with the ancient tradition of 'The Beating the Bounds'.
This involves stout-hearted folk in sturdy boots and generally appropriate outdoor wear undertaking a seven and a half mile trek around the boundary of the Ancient Borough of Hatherleigh.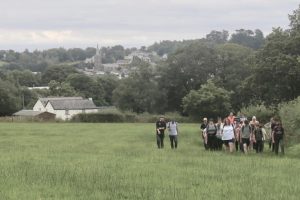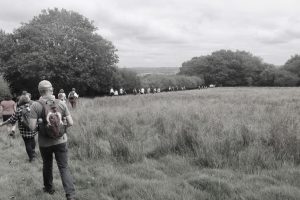 Hatherleigh is not the only town to observe such a tradition; Oxford's bounds-beating goes back nearly 600 years, and other examples can be found in Yorkshire (Richmond), Essex (Chelmsford), Wales (LLantrisant) and The Tower of London to name but a few. It may be a controversial point of view, but the author of this text is pretty sure the halfway point pasties are not likely to be anywhere near as good in any of these locations as in Hatherleigh.
The Beating of the Bounds is carried out, according to various sources, to help the inhabitants of the relevant area maintain a 'shared mental map' of the Parish or Borough boundaries.
This being my first time, I was not sure what to expect and- mindful that I'll be relatively ancient myself by the time of its next occurrence- felt a photographic record of the event would be in order, taking great care to avoid walking backwards into brambles / streams / fellow walkers and undesirable cow deposits as I did so.
Some of these photos are to be found on this site. I've deliberately used black and white and pastel tones in most of the pictures as; a) I like black and white photos, and b) I think it gives a timeless feel to the images. A cursory glance will make you realise that the tweeds of yesteryear are now replaced with modern breathable hiking attire and tee-shirts, but the commonality of purpose is the same.
Please now add 'pretension' to the list of things I've tried to avoid walking backwards into, but accept that my intentions were good.
If you also accept my high regard for the work of James Ravilious in his documenting of local life, you may see where I'm coming from. I'm certainly not inviting comparisons with his brilliant imagery, but if you accept some of my images as some kind of homage to him, or at least to the tradition of black and white photography, then job done. Or Bob's your uncle (which he might well be).
Anyway, the day was a very good day for walking: cloudy but dry, so no excessive baking or drenching at any point.
Thanks to the kindness of local landowners, access was granted across their lands, so this wasn't just an amble around familiar territory, but terra incognito (I think I just walked back into something).
All of which serves to remind us all what a beautiful part of the world we're lucky enough to live in, and with two hundred plus participants being 'clicked through' at the start, the sense of community was almost palpable.
Of course, portaloos and extra oxygen would have been nice, but it wouldn't have been such an authentic experience with them in place!
Thanks must be extended to Councillor Laing-Trengove for her brilliant organisational skills, and the team of volunteers who helped make it such a safe and enjoyable event.
Fair weather, tea, pasties and cake for all and coins thrown in the river for the kids.
What more could you need for a grand day out?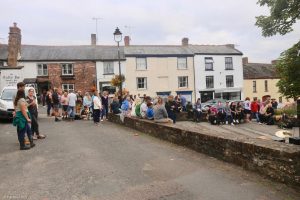 Paul Bolland