Fantastic news to hear the announcement that GWR train services are to return to Okehampton to Exeter and beyond on Saturday 20th November!
Journey times will take approx 40 minutes and will start at a 2 hourly service changing to an hourly service from spring 2022.
Full details can be found here.
https://www.dartmoorline.com
https://www.gwr.com/
https://www.facebook.com/okerail/
It's been a 150 years since the railway first came to Okehampton and the town held an anniversary celebration to mark the occasion. Period costume was encouraged and historic events were re-enacted to bring an authenticity to the occasion.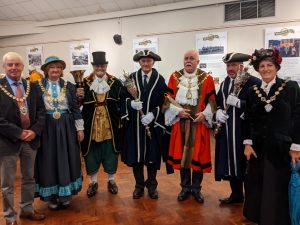 A gathering of Mayors to celebrate the occasion: Devon County's Jeff Trail, West Devon Borough's Caroline Mott, Okehampton's Bob Tolley and his Beadles, and Hatherleigh's Clare Tyson. With Ros Chard Town Crier
See the newspaper link for the write ups and photographs.
https://themoorlander.co.uk/dartmoor-line-is-back-on-track/
https://www.okehampton-today.co.uk/article.cfm?id=440108&headline=
Hatherleigh mayor Clare Tyson and Cllr Kay Walters went along to support the event and joined mayors from Devon County Council, West Devon Borough Council and Okehampton Town Council, along with members of Dartmoor Railway Association, OkeRail and Connect Bude.
Thanks and appreciation must go to all organisations who kept up the pressure to lobby government and see funding given to Network Rail to improve this connective line which saw its last passenger service with British Rail in 1972, nearly 50 years ago.
It's important to note that pressure still needs to continue to ensure that the bus services are changed in order to link up the public transport network. Hatherleigh Town Council will continue to play its part in this.