Updates:
The Millennium Time Capsule has now being reburied, with the 2016 version having had a few extra items put in – including some newspapers, poems and a pot noodle! A big thank you to Alan Beaman and members of his art group who put in countless hours re-doing  the flower bed Mosaic.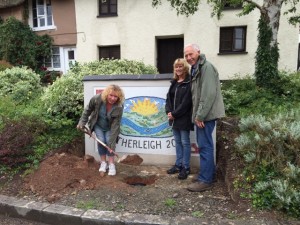 The Council would like to pass on its thanks to the handful of residents who turned out for another Town Clear Up day. And thanks are also expressed for those people who stop and pick litter when out walking, and who help clear weeds from outside their properties and sections around town.
Town Council Are organising a Town Clear up to make our Town a nicer place to be for residents and visitors. This will take place on 4th of June at 10.30 am All Volunteers welcome, meeting at Island Park. Please bring some tools
On Sat 11th of June The Town Council will be reinstate the Millennium Mosaic Capsule. Reinstatement will take place 11.00 am. All are welcome more detail of times to follow.